It was a Wednesday in May 2009 in Inverness in the Scottish Highlands. I could hear the faint sound of a hairdryer coming from the salon and the clock ticking as I sat in silence in my tiny salon staff room across from him. I watched him as he turned the pages of the report, with his crisp blue suit and short over gelled hair. I could smell a mix of peroxide and his over powering aftershave which added to my feeling of nausea.
As I watched him I thought to myself "You don't look a day over 19 yet my future is in your hands". My tummy was doing flips, part with excitement praying that he was about deliver the good news I so desperately wanted and part with nervous dread, a deep gut feeling of pending doom that was making me feel physically sick.
He looked up at me with almost arrogance "Miss Sanderson, we can't take on your business to sell, it just isn't worth it due to the lack of profits over the past few years. I know as a business owner you always think your business is more valuable than it is but the truth is, it's worthless".
BOOM, there it was, the news I had been dreading. I wanted to scream at him, "What do you mean it's worthless, so my divorce meant nothing? My chronic back pain I took pain killers for every 2 hour for 2 years meant nothing"?
The reality was I couldn't speak. I felt numb. "I will see myself out Miss Sanderson" he said in an aloof tone like I had completely wasted his time.
You see I was 8 months pregnant and about to leave for maternity when my salon manager of 4 years left work one day never to return. Without notice, she just disappeared with the stolen client list under her arm and went off to rent a chair across the road.
I had also gone over the VAT threshold without realising and owed in excess of £11,000.
My fear was not only restricted to my unfolding salon situation. I had other pressing worries. I was recently divorced which was a very painful time. I was about to become a single mum to 3 children, I had no cash in the bank, no savings and I didn't know how I was going to meet payroll that Friday.
The truth was the recession had hit and things were not going well. I had been making every mistake in the salon owner book. In fact I wrote the darn thing!
When you hit rock bottom and don't know where to turn you never forget the day you crumble.
That was when I asked myself one question that changed my life.
"Caroline, can you honestly say you have done your best to make a success of your salon? "
In that moment I realised I had not. How do we know what we are truly capable of unless we give it our all?
This was my turning point. The point of the lowest where you can't get any lower. When the pain is so great you must take action in some direction and there and then I made a decision and pact with myself I was going to turn my salon around and turn my life around. I was going to make sure I built a great team who would get the best opportunities and I was going to share any new knowledge with others so they too could grow.
I set out on my journey for knowledge learning from mentor after mentor. Mentors like marketing gurus Dan Kennedy, Chris Cardell and Law of Attraction brain training expert John Assaraf from the film and book Secret.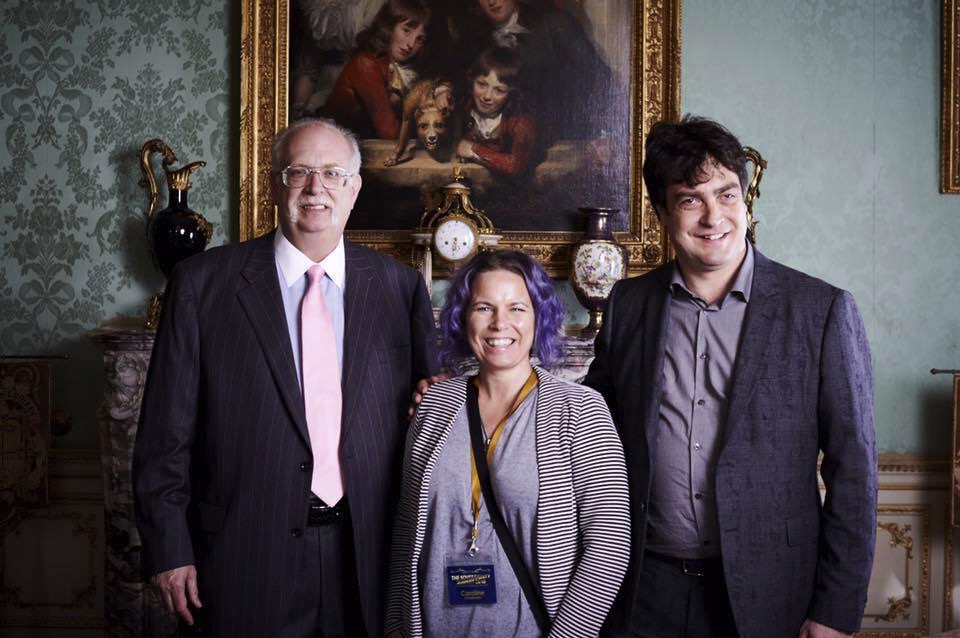 Me with Dan Kennedy and Chris Cardell at Downton Abbey
As a result I transformed my salon business and life and have become the most awarded salon business in the UK today with well over 60 awards and accolades for my salon, team and for Salon Jedi.
I have sacrificed so much and committed to my word. I have helped my team to numerous awards, goals and first experiences and I have been helping and training salon professionals for 9 years as I write this, much of which has been FREE.
I have spent months on end training salon owners for FREE on mindset strategies to break through limiting beliefs, I have hosted hour upon hour of FREE training webinars, given free advice and mentor sessions, written hundreds of thousands if not millions of words in free blogs and articles as well as speaking on stage.
I have shared my business model with other salons as part of my profits partners initiative, helped others win numerous awards and created many courses and consulted with salons all over the world.
The results have been amazing and I am delighted to have some of the biggest client success stories in the industry because that was what I set out to do all those years ago. You will hear from some of them if you attend Super Salon Summit.
As I approach my 10year anniversary of the day I almost threw in the towel, I have stepped up my mission to help those in the industry who may be struggling like it did, as well as those who are ambitious and want to stay ahead of the game.
As part of my mission this year to help and empower 1000 salon professionals with knowledge to master their salon business, is my Super Salon Summit Seminar.
Now in its 3rd year I am delighted to have secured sponsorship from main sponsors Mutu , Salon IQ, and The Good Salon Guide,  which means there are sponsored tickets at reducedrates from as little as £27 (usually £347).
When asked why they have sponsored the event the David Levine the Managing Director of Salon IQ said "You only know what you know. New ideas come from trying new things. Once in a while something new comes up that makes you look at things differently and if your salon is not where you want it to be, then perhaps you need to look at attending Super Salon Summit and that is why Salon IQ is proud to be sponsoring this event."
Managing Director of The Good Salon Guide Gareth Penn said"Good Salon Guide believes passionately in improving standards and it's no longer enough to be the best colourist or cutter, you need to run your business to the same level. It's for this reason we're proud to be involved with the Salon Summit".

There will be NO profits from ticket sales! If there are any profits left over from tickets after costs, the entire amount will be given to one of the hairdressing charities. I also donate 10% of Salon Jedi profits every year since I started the company to charity.
At the Summit this year I will be joined by my Salon Managing Director Carla Zebrowski who has become a big part of Salon Jedi coaching due to her Award Winning Front of House and Management skills. Carla started with me as a part time receptionist and developed into my full time Managing Director at my Salon Ego Hair Design and has hosted many Front of House and Management coaching sessions for Salon Jedi.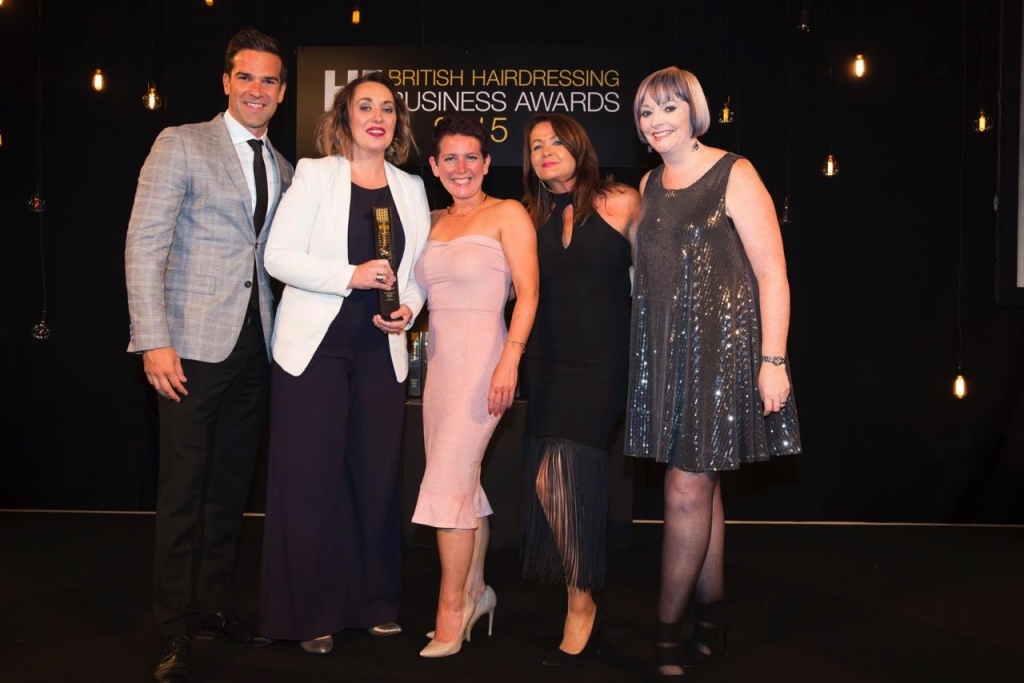 Carla second left winning BHBA Front of House Award
All my expert guests are giving their time for FREE as they believe, like I do, that BUSINESS education is key to the future of our industry as we know it. These include Jamie Stevens, Robert Soutar and Joseph Koniak.
Yes, making sure young talent comes into our industry is key and there are many incentives promoting this doing a great job to bring awareness about our great industry BUT we need to make sure that salons can offer our new talent a long thriving career in a sustainable profitable salon.
There are so many salons and professional struggling to make the numbers work so they are jumping ship to self-employment in their droves as a last resort. I know this because I consult all over the UK and see it all the time.
Don't get me wrong, I am not against self-employed salons or professionals if it's done for the right reasons. I am a great advocate of entrepreneurship BUT this is not the case for so many. Salon owners are converting to self-employment feeling this is their only option and stylists at salons are sometimes forced to go self-employed or the salon closes.
Next year is my 10 year anniversary of my turning point. I have helped hundreds of salon professionals since then create their own turning points and success stories and next weekend Super Salon Summit will hopefully create some more.
You will hear from some of the successful salon professionals I have had the pleasure of helping at the Summit as well as my brand new Super Salon Success System.
For Sponsored tickets to attend the even 16th-17thSeptember at London Gatwick get your tickets here
https://www.eventbrite.co.uk/e/super-salon-summit-2018-tickets-47716155305
All tickets come with a FREE guest pass to bring a guest with you.
https://www.eventbrite.co.uk/e/super-salon-summit-2018-tickets-47716155305
I hope to see you at the Summit or please share with salon owners you know to spread the word.
Caroline x
Please feel to get in touch if you would like to be an expert guest at the next Super Salon Summit and help contribute to the business expertise of our industry. You can also share this blog over platforms to spread the word about Super Salon Summit so we ca spread the knowledge together. 
https://www.eventbrite.co.uk/e/super-salon-summit-2018-tickets-47716155305